Urban Legend opens first store at Hanningtons Brighton
#TastingIsBelieving
Next generation sweet bakery brand Urban Legend has launched its very first store in the heart of Brighton's Hanningtons Lane. Pioneering new-to-the-world responsible indulgence with their 'unbelievably good' donuts that are never high in fat, sugar or calories. 
Finding ingredients in roots, pears, leaves and melons as alternatives to sugar, as well as steam baking to cut the fat, Urban Legend donuts are a product of cutting edge food science. Tasting as good as the market leaders but with dramatic cuts to the unhealthy ingredients, Urban Legend donuts offer a revolutionary way to enjoy an indulgent treat. 
Nutrient levels for sugar and fat are classified as medium or low by the Public Health England traffic light scheme, with calories being at least 30% less than competitive products. With each donut containing only 10 grams of sugar, it's the equivalent to eating two squares of chocolate, or less than one marshmallow. 
Opening its doors at 15 Brighton Place, part of Redevco's Hanningtons Estate, Urban Legend offers an array of inventive flavour combinations for people to try and buy. Choc Party for instance is a double chocolate donut with chocolate drizzles and cookie crumb confetti. All are priced at £1.95 for one, a box of 3 for £5.65 or 12 assorted for £14.95. Visitors will get to enjoy the Urban Legend experience in store too, with a 2.4 metre-high pink sprinkled donut chair for people to sit in the middle of for the perfect photo opportunity.  
Urban Legend is the brainchild of Anthony Fletcher, former CEO of snack company Graze. As Founder & CEO of this new venture, Anthony spent much of his childhood in Brighton and was key in selecting the city as the launch store destination. He said: "For hundreds of years sugar and fat have been the key ingredients in sweet treats and baked goods, so much so it's almost taken as gospel. We don't believe this has to be the case and have found the right ingredients and cooking methods to prove it with our donuts. 
"We've come to Brighton because it's a beautiful city full of people who embrace change, are up for trying new things, and it's home to some fiercely independent, forward thinking challenger brands. We think it's the perfect place to bring Urban Legend to life, and really believe our donuts are too good to be true. This is being able to enjoy the junk without the junk, and we can't wait for the people of Brighton to put them to the test."
For opening hours and further details click here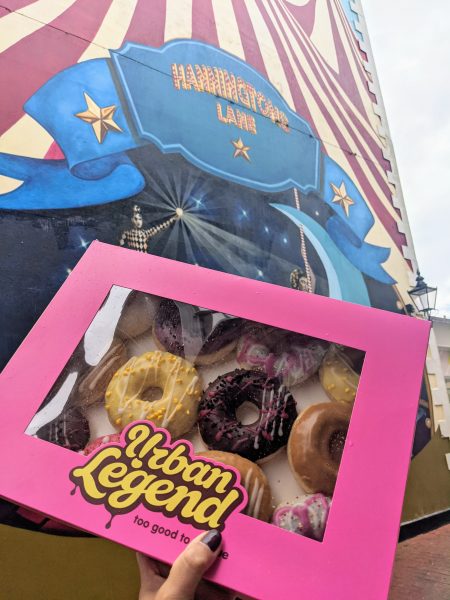 Hanningtons Estate has been curated and created fusing old and new buildings over a near 3 year period, completed in late 2019.